Photo scanning services involve digitalizing old photos. There are several pictures or videos we may have, and we don't want to lose the memories.  To maintain the photos, we need to pick the best scanning services that can help us archive our old photos and negatives into a digital file. With the high demand for the services, there are several photo scanning services available online. To pick the best is not accessible if you are not familiar with the service. In this article, we have reviewed the best scanning services that are reliable and affordable
Need Digital Photo Scanning Service?
GoPhoto
GoPhoto is one of the best photo scanning services among the other services. The service is extremely friendly to the users, and their process is streamlined. Its design is hassle-free to the users. GoPhoto is the best among the others due to 4 main features
The first one is the shipping fee. They have a flat rate shipping fee of $20, even if your kinds of stuff are many. It is an advantage when compared to others. You are to print a UPS label when opening your order, and they will subsidize the fee of the required set.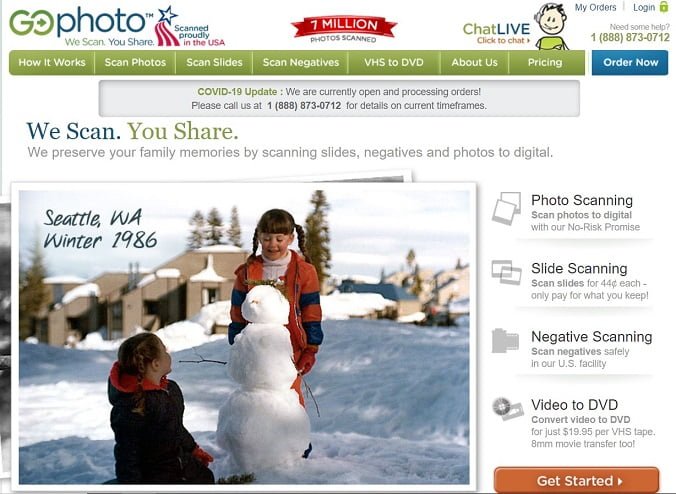 Second, it is not a must to structure your file to send it to them. You are free to send even the whole photo albums, and they will remove the photos and scan and replace them as they were. It gives you easy work as opposed to when you are required to arrange your pictures or slides before you send your order.
There is no upfront payment. In most cases, many photo scanning services require one to pay an upfront fee of 50 percent, but with GoPhoto, you pay when you have seen your scanned photo. If there are some scans, you do not need you to delete them and pay only for those you are to keep.
It offers free unlimited online library access. It is an excellent opportunity for one to organize their photos, back up, and share them on social media. It contains some ad-on like rush services, home movie conversion, and extra copy scan. This allows one to carry out any of the services if they need it.
Pros
It is user friendly hence easy to use
Allows one to pay for only scans they want to keep
Offers a free additional online library
Cons
Their scan price per each item is somehow higher
Negatives and slides scanned at a lower resolution
ScanCafe
This is another photo scanning service that allows one to scan a variety of home photos, media, videos into digital form.  The value kits with the service make its services stand out. ScanCafe provides a 3000 dpi for scanning the slides and negatives and 600 dpi for printed photo scans.
The services offer an excellent option for sending all the items in one kit rather than sending them out separately as other services do. The size of the package can be as from 500-10000 scans, which are appropriate for shipping and label. The option does not have a rush service option; therefore, it takes time to process the kits.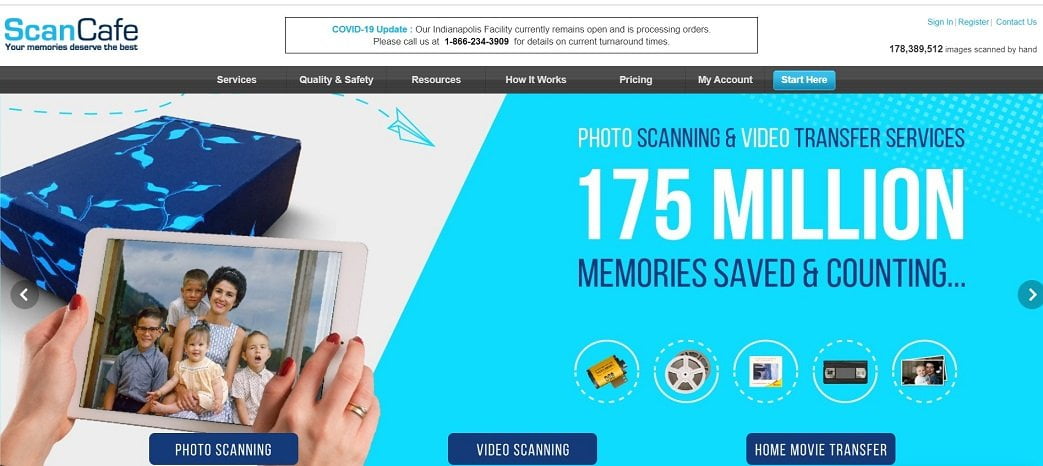 This service has a limited customization option, and each scan can get the attention of up to 3 minutes. For bulk kits, one has to repay them, and it should be known that there is no preview option once the scan is done. They also offer the best scan price of 29 cents /photo for up to 500 scans. Once the scan is done, you get your scans and your DVD with the scan. Here is an online gallery that is created specifically for your work. With this, you can easily share them online.
Pros
It's cheap
Able to combine various types of media in the value kit
Gives a high-quality photo
Has an instant downloading
Cons
Customized value kit
Scanned files are not sorted in folders.
ScanMyPhotos
ScanMyPhotos provides the fastest image scanning services when compared to others. If you need your photos to be scanned instantly, these guys offer the best services for you in a short period. For them, they give some turnaround pay-per-scan photos in 7-10 days. Still, they also have a unique one-day scanning selection on various orders such as prepaid boxes that can carry up to 10800 images, for they do not include other media like negatives and slides.
You can have an in-person appointment for the scanning services if you are living in Irvine, California. They accept this for the locals in the area. Even with the super speed scanning, their services do not come with any inconveniences at all. For your photos to be accepted, you need to clean them thoroughly and arrange when you are sending them.  ScanMyPhotos company is stringent when it comes to photos, so your photos must follow their rules to work on them.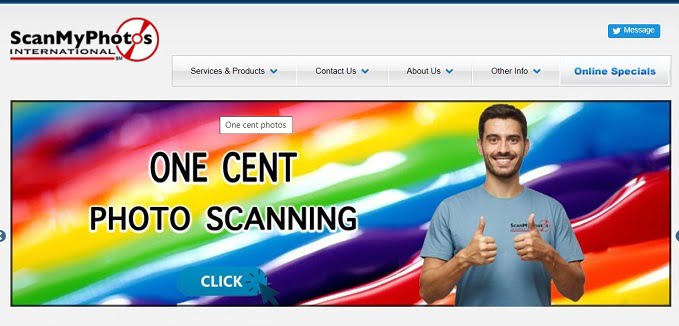 They have an extra option, which is costly when they scan and arrange your order. The company warns that if your images are packed backward, you will get the same scan with backward instead of the front. This is an indication that they do not give more attention to every photo as compared to other services. This might seem to be discouraging.
Pros
Fastest services within a single day scan option
Has a high-quality photo scan quality
Convenient with UI
Bulk scans available
Instilled with a lot of features
Cons
The bulky scan is expensive
Has strict guideline in packaging and sending photos
Has a limited delivery option
Digital Memories
Digital memories renewed offer the best photo scanner service to those interested in excellent resolution and quick digitization scans. They partner with MiMedia to provide the best other media services, such as cloud service and ensure that your photos are protected from hardware failures. This is one of the best and vital features that most people fail to consider whenever they are doing photo scanning services.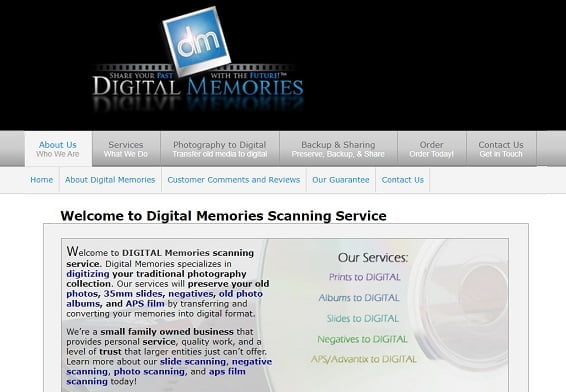 When scanning photos and films into digital formats, it's well to maintain it in digital formats because they do not fade or deteriorate quickly. A storage format with digital photos has a short lifespan, let say 4 to 8 years. For physical images, the cases are different, and they can last for more than a century. So to have a concrete backup plan of protecting them is good.
Digital memories give their clients free 60 backup days once they have scanned their photos. The backup can be continued at a few additional amounts. This provides the client with the best time to search for the best backup plans for his digitalized media if they do not want to use cloud backup services. With the MiMedia, it allows their client to back up the whole library of digital photos even when they haven't scanned them. The service will enable one to stream their videos and share them with any Wi-Fi.
Pros
Provides photo backups for scanned photos
Has an excellent resolution of scans
Offers a backup plan for all the scanned images and videos
Fast reversal
Gives the best dpi for image scan
Cons
The cost is higher compared to other services
Scan digital
ScanDigital services is another one photo service that provide a wide variety of scanning services that clients do prefer. Unlike other services that scan and restore old photo formats and negatives, ScanDigital offers more to convert all films and videos to the required formats. This is the best service for those who have 1950s movies and want to convert them. The service is able to convert the videos and films into BetaMax, MiniDV, Hi8, Digital 8, and VHS to digital formats. It converts the negatives and films also.
They have some service expert technicians who are able to convert old films that might be damaged. The whole scanning process includes well-trained experts who inspect and clean the film during the conversion process. If there is any broken issue with the picture, they will fix and repair films whenever it is required. With these remarkable services they give, their scanning services are a bit expensive. For 600 dpi, it cost 68 cents. There is also another option of 88 cents for 1200 dpi.
The good thing with ScanDigital is that all the scanned photo it must undergo three stages for expert reviews before they sent to their clients. With this, the photo quality is maintained. If a client isn't satisfied with the final result, rescan ben be done on a fee basis.
Pros
It is suitable for video digitization
All photos go through expert revision before sending it to the client.
They allow free photo re-edit if the client isn't satisfied.
Able to digitalize videos
Cons
The turnaround is slow
Somehow expensive compared to other services
Has no backup services to scanned photos
Memories Renewed
If you are looking for a fast digitalization and a service with an excellent resolution in scans, Memories Renewed is the perfect service for you. It gives the ideal photo resolution services that make the company the best. Memories Renewed services allow analogy images, film negatives, and slides, and they skillfully scan them into digital files. One can send all the album to be scanned something that other services doesn't offer. It is ideal for an all-in-one scan at the lowest cost of 60 cents for each image.
This might seem expensive compared to other services, but the quality of the scan is of high quality. With them, you can have a backup plan of monthly at an affordable price. The money is deducted from the credit card once the customer gets the scans. It should also be understood that the service requires one to pay upfront of up to 50 percent.
Pros
Has a decent photo restoration services
The turnaround is fast
Its dpi for photo scan is best compared to other services
Able to transform audio from the cassettes
Cons
It is expensive compared to other services.
Dijifi scanning services
Dijifi is known to be one of the most expensive photo scanning services for old photos into digital services. In terms of photo processing, Dijifi is known to be the best among the other scanning services. Their turnaround is invaluable because they are able to convert the old photos that were damaged by time into digital files. The turnaround isn't fast time.
The Dijifi team boasts some impressive photo retouching skills that make the photo look more pretty than the original ones. With their services, it is not easy to notice any effect of digital manipulation on the photos. The significant setbacks with their services are expensive, and they charge 95 cents as opposed to others, which are cheaper.
Pros
Offers a pro-level photo retouching
Its turnaround is fast
Has the best photo processing
Cons
FAQ
What is the cost of photo scanning services?
Photo scanning services depends on several factors when scanning videos, films, and photos. The photo size, resolution of the digital files, organization, original formats, among others, are some of the factors that determine the cost.
Is can I scan my photos?
You can, and you need to buy a cheap scanner that can cost $40 0r more. However, the process is complicated and tedious if you are not familiar with it. It requires a lot of time and someone who is an expert in some technical issues.
Conclusion
Our photos, negatives, and slides deteriorate with time. This limitation is experienced with analogy files, something that isn't experienced with a digital file. The use of the hand in scanning can be tedious and may not offer the best digital formats required. With the improvements in technology, various scanning services can help save your old memories.
You need to wisely choose the best scanning service that will meet your expectations. In the article, we have discussed the seven major best photo scanning services. When selecting the best service, pay attention to the media type, resolution, photo restoration that the service is working with. Additionally, the cost of scanning and upfront fee plus the shipping fee should also be put into consideration.
Note:- FixiPixi is a digital photo editing company, we have not provided any print service.